Gateway Communities Seek Key to Workforce Housing
by Miriam
April 11, 2022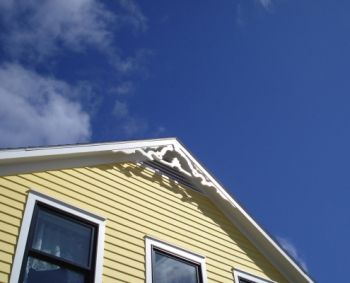 by Miriam Owsley, Strategic Communications Manager
For seasonal workers, finding a job in the most beautiful place in America is the easy part. Securing a place to live from May through October? That's much more challenging.
The Sleeping Bear Gateways Council is working to help seasonal workers and their employers address the issue of workforce housing in Benzie and Leelanau counties by creating programs that can be scaled up and replicated in communities throughout the region.
A Critical Shortage
Much ink has been spilled over the rising cost of housing, the lack of homes listed in an "affordable" price range, and the competition buyers face as the demand for homes outpaces the supply. Either priced out of the market for purchasing a home or looking for something more flexible, people turning to the rental market are faced with similar challenges — very few options and sky-high prices. Though Northern Michigan's housing crisis is not new news, it seems to have reached a fever pitch, prompting some critical voices in our community to ask "Why isn't anyone doing anything about this?"
The demand for housing has steadily increased over the last decade since Good Morning America blessed (some may say it's a curse) Sleeping Bear Dunes as the Most Beautiful Place in America in 2011. Since then, property owners have been incentivized by the earning potential of renting their homes to vacationers.
"The unavailability of long-term rentals is a huge crisis," said Elise Crafts, founder of community development consultancy Statecraft, "but the challenge of finding workforce housing is exacerbated by the fact that seasonal employees are seeking housing during peak tourism season." Crafts was selected in October 2021 by the Sleeping Bear Gateways Council (SBGC) to lead a project that aims to address the critical shortage of housing for seasonal employees in "gateway communities" around the Sleeping Bear Dunes National Lakeshore. The project received a $10,000 Seed grant from Rotary Charities in June of 2021 to support the convening of partners and local employers to better understand and address the housing needs of the community. Amplified by a $10,000 grant from the Grand Traverse Regional Community Foundation and private donations, the SBGC was able to leverage these funds and access a $90,000 USDA Rural Business Development grant.
Working Inside a Complex Issue
The housing crisis is a complex issue, meaning that many interconnected factors contribute to the ongoing problem, which manifests in many ways throughout our society — rising costs, higher rates of homelessness, unsafe living conditions, or people choosing to move elsewhere. In order to change a system that is creating undesired consequences, we have to work together as a community to see the issue from multiple angles, identify the factors that hold the problem in place, and then innovate to restructure the system so it produces different results. Powerful systems change strategies must involve multiple, complementary actions carried out by stakeholders throughout the system.
Crafts says SBGC is plugged into the regional housing ecosystem, and that their strategies complement those of other organizations that are working to address the housing shortage, like Housing North and Habitat for Humanity. "The Council's research continues to add layers to what many of us understand as the problem - there is not enough housing, for a variety of reasons," said Crafts. By uniquely focusing on seasonal workforce housing and partnering with local businesses and homeowners, the Council seeks to creatively leverage the resources of the community and alleviate some of the challenges both employers and their employees face.
Gateway Communities Get Creative
In a 2020 survey by SBGC, housing emerged as one of the top concerns of Leelanau and Benzie county employers as they struggled to find adequate accommodations for their seasonal employees. Leelanau County's largest employer, Cherry Republic, has implemented several creative solutions to house their employees. "We have the talent that wants to work for us, but there's no affordable housing for them to live," said Leah Moskovitz, Workgroups & Housing Supervisor at Cherry Republic. The company owns two houses in the Maple City area, participates in a "workamper" program, and partners with the Leelanau School to house employees in student dorms during summer vacation. "More heads in beds means we're better able to staff our stores. But our housing program is now full and all of our beds have been allocated since early March," said Moskovitz. She said that even with the company's housing program and their best efforts to recruit staff, Cherry Republic still had to close their restaurant for a few days last summer to give staff time to rest, hoping to prevent burnout.
This challenge of being understaffed is not unique to our region, however. Other gateway communities — cities and towns situated around major tourist attractions like national parks, wilderness areas, and resort destinations — grapple with factors that drive their workforce to live further away from their work. Crafts says one solution, led by SBGC, that may be unique to our region is the Housing Exchange, an online platform that connects people seeking seasonal workforce housing to property owners with lodging to share. "We're not aware of other communities doing this, but the initiative is modeled on the program implemented by the Park to house their seasonal employees."
The Sleeping Bear National Lakeshore first felt the housing crunch in 2019, when the number of seasonal employees outnumbered the available accommodations in park-owned housing. In response, the Park implored the community to open up rooms in their homes to house employees. "It was pretty informal. Our staff set up a spreadsheet, and we had over 70 responses - everything from empty vacation homes, to rooms with private bathrooms and separate entrances, to a futon on a three-season porch," said Tom Ulrich, deputy superintendent at Sleeping Bear National Lakeshore. COVID restrictions added additional complexity, limiting the number of people that could be housed in shared facilities, and several park employees were able to secure housing through that community housing spreadsheet. "Even now, I occasionally get emails from people offering housing. There's a real desire in the community to help address the need for seasonal housing. This year, we're working closely with the Sleeping Bear Gateways Council to find housing for employees," said Ulrich.
Upon announcing the Housing Exchange in March, "nine employers signed up right away. They're looking for any solution that can help them find housing for their employees," said Crafts. What they really need now is hosts who are willing to rent to seasonal employees.
Crafts said SBCG is doing everything they can to support hosts by providing customizable sample documents like rental agreements and a housing handbook, and fielding questions from homeowners about what renting their home means for their security, privacy, and liability. Additionally, employers can serve as the main contact for a rental agreement, serving to build trust between homeowners and seasonal workers. "The Housing Exchange is a great incubator for creative solutions," said Moskovitz. She notes that for many smaller businesses, their ability to stay open is directly related to staffing, "and staffing is reliant on housing."
Communities May Hold the Key
So, what can we do? Crafts hears these calls from community members to "do something!" and invites everyone to see themselves as part of the solution. "So many of us understand the challenge of finding housing. Instead of wringing our hands and hoping someone fixes the problem, we can open up our homes to house the person that is pouring our drinks, stocking the grocery shelves, or launching our kayaks." Crafts believes we can come together and begin to solve this problem by leveraging the available resources and making the most of what our community already has.
Community members in Leelanau and Benzie County who are ready to be a part of the solution can learn more about renting to seasonal employees on the Sleeping Bear Gateways Council's website. Together, we can address the complex issues our community faces and work to build more resilient, thriving communities that are accessible to all.