More than Bees: The Benzie Hive
by Miriam
July 27, 2021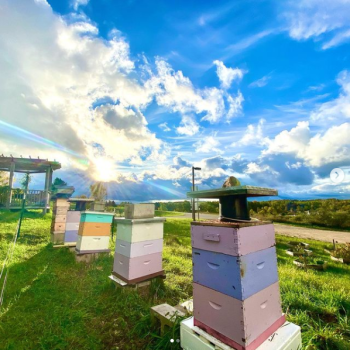 By Miriam Owsley, Strategic Communications Manager
Since 2008, Grow Benzie has supported other regional nonprofits, networks, and interest groups, promoting local healthy food, sharing resources, and building connections in Benzie County. As part of an intentional and forward-thinking strategic planning process, Grow Benzie is investigating needs and inventorying resources to more efficiently serve the community. With the support of a $50,000 Assets for Thriving Communities grant from Rotary Charities, their Benzie Hive initiative will provide partner organizations and networks with tools and resources to help them collaborate and serve the community.
In the 13 years since its formation as a nonprofit organization, Grow Benzie has become many things to many people. What started as a group of volunteers on a mission to breathe life into a community garden in Benzonia has blossomed into a community center with a commercial incubator kitchen and event space that hosts various classes, programs, and interest groups. Their weekly farmers market was the first in Benzie County to accept food assistance programs. Through a partnership with Munson Healthcare and Shape Up North to provide residents with fruit and vegetable prescriptions, nearly $8,000 in market vouchers will be distributed to participants who attend nutrition and culinary classes during the market. Honey bees are tended to by the Bee Guild, who keeps their bee boxes on the hillside behind the community center. The Benzie County chapter of Days for Girls International now has over 60 volunteers who have cut, sewn, and assembled thousands of women's hygiene kits, which are sent to nonprofits and mission organizations in the United States and developing countries. During the pandemic, volunteers were mobilized to make 5000 masks, which were distributed throughout the county, thanks to a partnership between Grow Benzie's Fiber Guild, Benzie Bus, and Paul Oliver Memorial Hospital.
Connecting and collaborating are at the core of Grow Benzie's mission and programming, but these partnerships and resources don't make and share themselves. In 2014, Josh Stoltz was hired as Grow Benzie's first employee. As Executive Director, he's created programs and forged relationships with local leaders that have tangible impact on the community. In 2017, he started to notice that "there were many groups and programs that were using the community center regularly." Having worked with SEEDS and its afterschool programs in Benzie County, he knew there was an unmet need when the program wasn't funded for another year. After bridging that gap with afterschool programming at Grow Benzie, "we started noticing that there were other youth programs available in the community. We didn't need to invent these programs, but we could play the role of connector between the programs and the people," he says.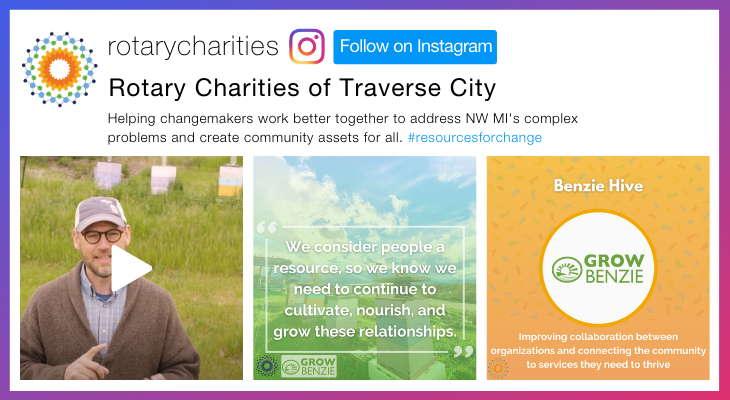 Playing this role of connector is one of the inspirations behind the Benzie Hive. "There's a large spectrum of partners who are part of the Benzie Hive," says Stoltz. The Hive encompasses interest groups like the Bee Guild, Fiber Guild, and Fermentation Guild and nonprofit organizations and larger networks. Grow Benzie serves as the backbone support organization for Best Benzie County, an education network that includes the superintendents from local public schools, administrators from Northwestern Michigan College and Baker College, Grand Traverse Regional Community Foundation, the Chamber of Commerce, Michigan Works!, local business leaders and major employers. "We have all the major players at the table," says Stoltz. "And everyone agrees that we need to help kids pursue post-secondary education. We have shared goals, a shared vision, and use a shared language" to help local students pursue a college degree, a certificate, or training in the skilled trades.
The relationships between so many local groups and organizations to Grow Benzie creates opportunities for the organization to facilitate partnerships and resource sharing. In alignment with their work to create a systems map as part of their +Acumen Systems Change project, Stoltz began facilitating regular meetings between Hive members "to get everyone around the table, see what everyone was doing, and explore how they could share resources." As an example, Stoltz recalls a meeting where a local church had extra romaine lettuce that needed to be used up, else it would be thrown away. Organizers of a youth program accepted the romaine lettuce and served the greens at their afterschool program, saving money and sharing resources.
Inspired by these small-scale successes, Grow Benzie hopes to take that resource sharing to the next level. As part of their strategic planning process that began in 2019, Grow Benzie hosted 12 focus groups to investigate the community's needs and determine the next steps for formalizing the Hive. "We consider people a resource, so we know we need to continue to cultivate, nourish, and grow these relationships. We also know that our facilities are an important resource for these partnerships and our community," says Stoltz. The results of the focus groups identified the need for stronger coordination between community programs and services and that a backbone organization like Grow Benzie could play that role. The next steps in the plan include identifying strategic partnerships to move forward with and nurture and hiring a Resource Manager to support collaboration and partnerships between Hive member organizations and the community.
Rotary Charities is proud to support Grow Benzie and their Benzie Hive initiative with a $50,000 Assets for Thriving Communities grant. Learn more about Grow Benzie and get involved by visiting their website.