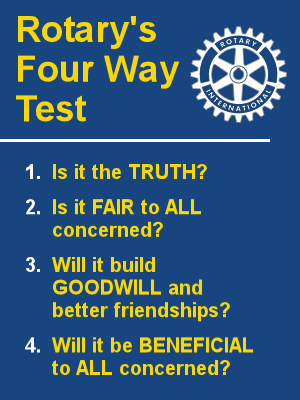 Since 1920, business and professional leaders have gathered together in commitment to community and world service as members of The Traverse City Noon Rotary Club. Their commitment to Service Above Self has yielded tremendous returns for our region, thanks to a strategic land purchase that brought mineral revenues and launched Rotary Charities of Traverse City. Read more about our history here.
Though we operate separately, all three Traverse City Rotary organizations - Rotary Charities, Rotary Camps & Services, and the Noon Rotary Club - come together around a shared vision of a region where everyone thrives. Our board members are Noon Club Rotarians, who often call on the Rotary International 4-Way Test, making decisions based on truth, fairness, goodwill and mutual benefit. Representatives from Rotary Clubs in our 5-county service region volunteer their time and community expertise every year to help review grant applications.
Rotarians work locally and internationally to make the world a better place for everyone. Our affiliates at the Noon Rotary Club do community service and make grants in Grand Traverse County. Their grantmaking program is administered separately from Rotary Charities.