"We cannot solve our problems with the same level of thinking that created them."
- Albert Einstein
To build a fair, thriving and resilient region we need to uproot the complex problems that hold our neighbors back. Many problems facing our region are not getting better, despite our best efforts. These are complex problems - like poverty, health inequities, homelessness, addiction, climate change - and they require a different approach. Most of our attention goes to addressing the consequences of these problems over and over again. For lasting change, we must address the causes. Systems change is a powerful paradigm to help us think and act differently in the face of complex problems and move the needle, for good.
To change systems we work together to first accurately see the factors that hold a problem in place and then innovate to re-structure the system so it produces different results.
What's a system?
A system is any set of things that are interconnected and produce a result. Many interconnected factors together sometimes produce results nobody wants - like obesity, or food waste. We are surrounded by systems everyday. The systems we are most interested in are macro-level systems that affect our community's wellbeing, including those that affect our access to food, education, nature, health care, housing, and more.
​​​​​​
"A system is a set of related components that work together in a particular environment to perform whatever functions are required to achieve the system's objective."
- Donella Meadows
---


How do you change a system?
Systems change is both a process and an outcome. As a process, systems change includes working with others to more clearly see the factors that are contributing to a complex problem, in order to find places to intervene that will change the system so that it produces better results. Systems change processes are different from business as usual, and often involve shifting resources, power and mindsets to build a better future for all.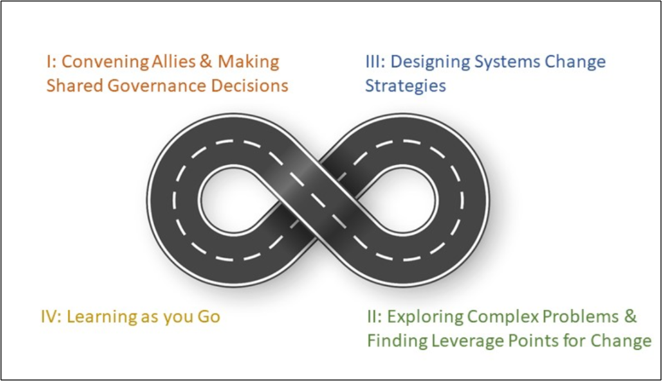 ---
What does systems change look like?
As an outcome, systems change is a change in a structure or pattern that is aimed at the root causes of a complex problem and leads to long-lasting results.
Community-level systems change:
Cannot be achieved by one heroic individual or organization alone

Involves diverse teams that work together to see issues from many angles and perspectives

Gets upstream on complex problems, finding and addressing root causes

Uncovers strategic opportunities for change, "leverage points," that may be unexpected

Includes a variety of actions aimed at root causes and leverage points

Is best executed when a window of opportunity has opened - such as a change in political climate or a high profile case that has built public will for change

Fundamentally shifts the underlying structures that keep problems in place - including policies, practices, relationships, resources, power structures and mindsets

Considers the potential unintended consequences of actions

Prioritizes solutions for those most directly affected by an issue

Leads to long-lasting change that affects many

An evaluator who studies systems change around the world shares some advice with us.
Read More