We are preparing to receive applications for our fall cycle. Here is a message from us announcing changes in 2020. Read through the sidebar of this webpage to learn about this year's process, and scroll below for more detail about the intent of this grant category.
---
We support initiatives that target the root causes of complex problems. Our Systems Change Accelerator grants invest in collaborative problem solving that is different than business as usual, shifting resources, structures and mindsets for lasting change.
We must make lasting progress on the complex problems that hold our community back, like hunger, homelessness and climate change. This requires us to work differently, investigating the roots of complex problems that are found in the context, or system, around them. We are here to help you learn about and catalyze Systems Change - find additional resources here.
WHAT WE FUND
We are not limited to specific issue areas. We are open to initiatives proposing a systems change solution to a complex problem that keeps our neighbors or environment from being resilient. Systems change often requires many activities including several organizations - a "constellation of actions" to make lasting progress on an issue. This grant can be used for innovations that are intended to change systems by shifting the underlying structures that keep problems in place: like changes in system practices, policies, resources, information flows, relationships, power dynamics and mindsets. We like this framework on systems change structures fromm FSG.
---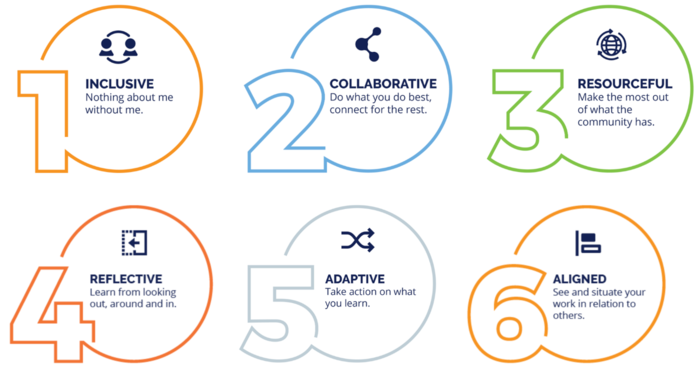 ---
Are you ready to catalyze systems change?
Systems Change is driven by intentional, inclusive problem solving processes that are different from business as usual. This grant is available to initiatives that have done significant groundwork together before applying:
Built a team of diverse stakeholders that have worked together to see the complex problem from many angles and perspectives

Identified and prioritized leverage points for change

Designed a constellation of actions that will impact those leverage points to change the system that is creating the problem

Established partnership agreements with organizations that will implement your constellation of actions, leveraging each party's unique assets

Built structures to stay connected with others working in the targeted system who are not directly involved in the current initiative
Getting ready
We support the convening, engaging, investigating and planning activities that will prepare you for a Systems Change Accelerator initiative.
---
LEARNING: A SHARED COMMITMENT
The systems change approach to social change is relatively new. Not many funders and changemakers are organizing their work in this way. We have a lot to learn in this area and we are committed to learning alongside our grantees.
Your commitment
Rather than requiring grantees to implement a traditional evaluation process, we ask you to demonstrate your commitment to learning. Grantees commit to the following:
Designate a Learning Steward from your initiative and budget for their time. Grant funds and/or match may be used for this person's time. You are encouraged to designate a Learning Steward from an organization that is familiar with your system, but not from the primary fiscal agent for this proposal.

Create a customized Learning Plan. Your Learning Steward, and any other appropriate members of your initiative, will work with Rotary Charities staff and consultants to create learning processes custom to your team to help you collect information and stories documenting your team's unique learning journey, and help us all notice early signals of a changing system together.
Join our quarterly Systems Change Community of Practice. Your Learning Steward is required to attend, and any other members of your initiative are welcome. The Community of Practice will be a facilitated group focused on learning and co-designed around the needs of the cohort.

Capture and share your team's unique learning journey.
Our commitment
Working with Learning Stewards to articulate processes that will help document each team's learning.

Providing skilled facilitation for the Community of Practice that will create a safe space to share and explore successes and challenges.

Amplifying each team's story (with permission) through our new communications strategy. We hope to help inspire others, build the body of knowledge around this type of work, and attract more resources.