Escalating Investments to Expand Access to Pro Bono Legal Immigration Services
by Miriam
February 21, 2022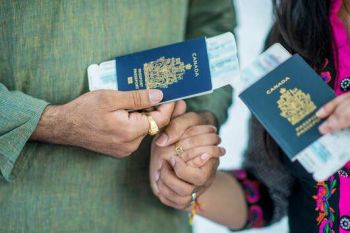 by Miriam Owsley, Strategic Communications Manager
What began as regional outreach ministries across the state of Michigan has grown into a statewide organization that's served hundreds of clients from across the globe. With continued support from Rotary Charities, including most recently a $50,000 Assets for Thriving Communities grant, Justice for Our Neighbors Michigan provides pro bono immigration legal services to families and individuals from around the world as they navigate the complicated immigration legal system.
Justice for Our Neighbors (JFON) has been serving the needs of immigrants in Michigan for over 15 years, beginning first as a ministry of the First United Methodist Church in Grand Rapids in 2004 and spreading throughout the state with additional locations in Kalamazoo and Metro Detroit. Seven years later, members of the Central United Methodist Church in Traverse City, in partnership with social justice advocates and local attorneys, formed a task force to determine the need and support for a JFON site in Northern Michigan. After successfully raising funds, the Traverse City satellite office opened its doors in 2015. "We were at that time and continue to be the only place north of Grand Rapids that provides pro-bono immigration legal services. Northern Michigan is underserved for these services," said Becky Beauchamp, Executive Director of JFON-Michigan.
Initially, the Traverse City clinic utilized the services of JFON's Grand Rapids attorney and employed a part-time case manager. Even as a small-scale operation, they were able to serve 40 clients in that first year, confirming the great need for immigration legal services in Northern Michigan. Since 2015, caseloads and awareness have grown steadily, exemplifying the necessity to scale the operation to serve more people with more complex immigration needs. Supported by a $10,000 Seed grant in 2017 and a subsequent capacity-building grant in 2018, a committed group of volunteers were able to build awareness of the organization and grow their donor base. In 2018, the four regional clinics united as one statewide organization, Justice for Our Neighbors Michigan, helping to leverage resources and increasing their impact by serving clients from 86 different countries. A 2019 Assets for Thriving Communities grant enables the Traverse City site to hire a full-time attorney to serve the needs of the community. "Rotary Charities was an initial investor in JFON-MI, supporting planning and capacity building. We're really proud of what Rotary's investments have allowed us to accomplish," said Beauchamp.
JFON-MI serves people with a wide range of immigration needs, who are often referred to JFON-MI by other agencies. "Partnerships with other organizations and agencies are important to our work because immigrants have to trust you before they will work with you. Alline's outreach work has been vital to building relationships with agencies and communities," said Beauchamp.
Alline Beutler is JFON-MI's Development and Communications Manager and Regional Liaison and a founding member of the Traverse City clinic. "We help "Dreamers", asylum seekers who have fled dangerous situations, children who have come across the border unaccompanied, refugee families who need help obtaining their green cards," said Beutler. Of course, this is an inexhaustive list - their client's circumstances are diverse, and their cases take years to be resolved. "A child may have as many as 5 different court cases in order to provide legal permanent residency."
For example, Beutler shared a story of a local case, now resolved. In 2016, a guidance counselor from a Northern Michigan school requested JFON-MI's assistance in helping a student obtain a driver's license. The student, "Ellie", met with JFON-MI's attorney, and as he interviewed her, it became clear that hers was a complex situation. Ellie was born in Canada to negligent parents. At age 5, Ellie was given by her mother to a man who smuggled her into the United States. She suffered repeated sexual abuse by the family she was given to, then bounced from place to place. By 9 years old, Ellie finally ended up with a family who could provide her with a safe home, but she had no legal paperwork. After three years of working with Ellie and her family, gathering documents from the US and Canada, JFON-MI's attorney was able to gain special immigrant juvenile status for Ellie. She was eventually granted permanent residency, and now has a green card, a driver's license, a job, and has enrolled in college.
Ellie is just one of the hundreds of clients JFON-MI helps every year. "All of our clients are doing their best to comply with US immigration law. They want to be here legally, work here, and create a better life for their families," said Beauchamp. "We would like the immigration legal system to be more straightforward, fair, and just. There are many complicating factors that can make it nearly impossible to comply without legal guidance." With the support of a $50,000 Assets for Thriving Communities grant the Traverse City office will serve at least 250 immigrants, refugees, and asylum seekers living in Northern Michigan communities during the next two years. "Rotary Charities' ongoing support has been critical to the development of this organization. It's a great example of how escalating investments can nurture and grow an organization."