Michigan Legacy Art Park goes virtual
by tori
December 22, 2020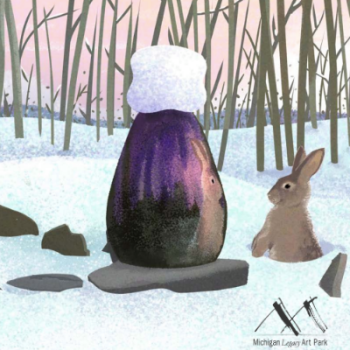 When it became clear field trips couldn't be a priority for schools in 2020, Michigan Legacy Art Park jumped on the chance to make their forested sculpture collection come alive for online learners.
Michigan teachers have made field trips to the art park an annual tradition, using the artworks as a springboard for subject learning in Science, History, Culture and the Natural World. The art park team dusted off a decade of educational materials in hopes to reach new audiences with a dynamic virtual experience.
With more than half of Michigan learning from home some or all of this year, the art park wanted to make it easier for homeschool parents and their kids to explore on their own. Using the guide, parents can take their kids for an outdoor adventure that doubles as a learning experience – or they can explore from the comfort of home.
Rotary Charities supported Michigan Legacy Art Park with a $10,000 Seed Grant to pilot the field guide as a COVID-19 adaptation. In Look & Learn: A Field Guide For The Curious they weaved time-tested lessons into a cohesive field guide that is itself an artful journey. Years of volunteer work inventorying the birds, insects and trees of the park brought a new richness to the lessons.
"Behind each of our artworks there is a connection to Michigan history and the natural world. One of the things that was missing in our original material was the 30 acres of natural landscape for learning. We wanted to bring that in," says Executive Director Joseph Beyer.
The guide tells stories that are rooted in the living space of the art park, where flora and fauna complement art interpretation. One page highlights David Greenwood's sculpture "Fallen Comrade" depicting a fighter plane run aground with the distinctive red tail of the P-51s flown by the Tuskeegee Airmen. These Black pilots, 20% of whom were Michiganders, broke racial barriers in the US military. Alongside historical reflections, the page features wild ramps and one of the art park's frequent patrons – a porcupine.
Local artists brought fresh perspectives to the guide, grounding the artworks and forest setting in an original narrative tailored to learners at different stages.
"Both of our collaborators got really involved in the project, spending time in the park and envisioning different ways to tell the story of what the park is offering. They created a new world we could envision from beginning to end," says Joseph of designer and illustrator Andy Tyra and editor Chris Loud.
The art park is exploring how to leverage their guides to take learning to the next level using the dynamic multimedia tools available online.
"We want to engage with teachers and learners in a radically different way to meet their needs right now," says Joseph.