Transform Your Organization by Creating a Learning Culture
by Miriam
March 30, 2021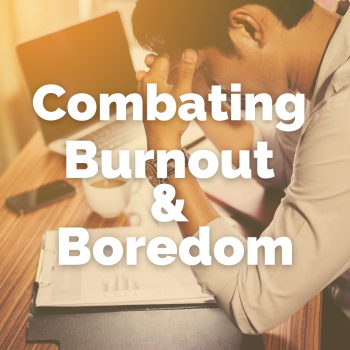 In many ways, it may feel like your work has become more demanding in the last year or so. As we continue to navigate the challenges of working from home, juggling deadlines, family life, and commitments, folks are feeling the effects of these demands. Feelings of energy depletion and exhaustion, mental distance from the work, and reduced efficiencies are key signals that you're dealing with burnout. With burnout being recognized by the World Health Organization, employers can no longer ignore the phenomenon and the factors that contribute to it.

Similarly, repetitive or monotonous work can negatively affect mental health, cause major stress, and leave us feeling bored. As a function of boredom, we may feel over-worked or under-employed, and become distracted or disillusioned. Staff who are bored are also less likely to engage with or focus on their work.

The effects of overstimulation (burnout) and understimulation (boredom) seem to overlap to the extent that both are characterized by feeling worn out. So what can we do to combat the stress, inefficiencies, and mental health effects of these phenomena? The answer may be fostering a learning culture in your workplace.

What is a learning culture?
When an organization, business, or institution enables its employees to gain the knowledge and skills needed to perform their best work, it's investing in its most valuable assets — people. Fostering a culture of continuous learning has its benefits: employees tend to stay at the company longer, feel more fulfilled in their roles, and perform at a higher level.

Tips for Creating a Learning Culture in the Workplace
Empower employees by asking them what they want to learn. Bonus: this will also help identify knowledge gaps and opportunities for improvement!
Set aside time to learn, or even better, integrate learning into day-to-day work. Informed by our guiding principle "Reflective", the Rotary Charities team knows that learning does not take time away from the work - weaving learning into the everyday is the work!
Make training easily accessible. You might consider professional development as part of a compensation package. However, we know that many organizations may be unable to afford the costs associated with the type of training their employees need to increase their knowledge. That's where we come in.
Rotary Charities' Learning Fund aims to provide tuition for local changemakers (and/or their teams) to attend learning experiences broadly aligned with the mission, vision, and guiding principles of Rotary Charities including technical, operational, and transformational learning opportunities. Get all the details about what we fund and how to apply on our website.

Ready to learn? Let us help.