Tech Tips, Part Two
by Miriam
March 17, 2021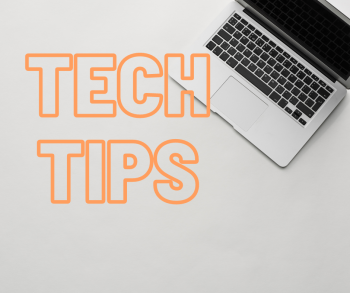 Approx. 4 minute read
It's been just over one year since Governor Whitmer declared a state of emergency in response to the first cases of COVID-19 in Michigan. During the following weeks and months, many non-profit organizations packed up their supplies, locked the office doors, and shifted their work online, including the Rotary Charities team. As we reflect on our work and how it's changed to meet the needs of our community, a theme emerges — it's not only what we do, but how we've gotten it done that's changed.

In our Tech Tips, Part One we shared a few lessons we've learned along the way. To continue in the spirit of sharing what we've learned, here are some specific tools your team might find useful for engagement and collaboration in the virtual space.

Interactive Engagement
Meeting virtually has become the norm, and after a full year without face-to-face meetings "Zoom-fatigue" threatens our productivity and engagement. If you're craving the energy and collaboration only a giant post-it flip board can deliver, check out EasyRetro. A favorite among Rotary Charities staff and partners, this platform allows users to manage a shareable board where participants can add virtual post-it notes and organize them into categories. EasyRetro has a free basic plan, and is great for collecting feedback, brainstorming, and throwing ideas at the wall to see what "sticks". With many customizable features, there are endless use-cases.

Get To Done
There are lots of project management tools and techniques out there — from meticulous spreadsheets, to the organized chaos of sticky notes, to pricy project management platforms. Depending on your needs and work style, investing in a project management tool like Asana may help your team stay up to date and on task on collaborative projects. On Asana, projects can be displayed as calendars, timelines, or as a board or list depending on what works best for your team to visualize the work, assign tasks to team members, and set due dates. Teams can collaborate with each other to achieve results and get real-time updates on the status of their projects. We use it to manage meeting agendas, grants cycle operations, and content calendars, individual to-dos, among many other uses. Asana offers a free basic version of the software, as well as a 50% discount for nonprofit organizations.

Stay Connected
While it can have many benefits for employees like lower reported stress levels, flexibility of work hours, and the ability to better manage family and work schedules, working from home can often feel isolating. To combat this sense of disconnection between coworkers, many teams are finding Slack to be a useful tool for internal communication. Slack is an easy-to-use instant messaging platform that integrates with many of the tools your team is already using. Conversations can be organized into #channels around projects, teams, and ongoing discussion topics, both work-related and social, (remember when we could just poke our heads into each other's office?). Slack is free for nonprofit organizations.


Key Takeaway: Set Your Team Up For Success
We know that changing our individual habits takes time and practice, and making adjustments to how we work as teams can be a challenging process! Set yourself and your team up for success by taking a thoughtful approach to onboarding. Here are a few suggestions to get you started:
Team buy-in is crucial to the success of lasting change, so involve them from the beginning. Organize a session to identify the problem your team is facing and brainstorm solutions and approaches to solving it together. Identify champions within your team to help guide your initiative towards success.
It is useful to determine how your team will interact with each other using a new tool. Create healthy group norms for communication by establishing a shared set of ground rules.
Communicate during each step of implementation, and don't skip out on training. To ensure the adoption of a new tool or system, meet your team members where they are and avoid making assumptions about their comfort level or tech-savvy. Thorough training sessions will increase the likelihood that team members will use the new tool.
Be patient, nurture your team, and collect feedback along the way. Leading change toward solutions is exciting and it is tempting to want to get "there" as fast as possible. However, no matter how much training and support you provide, there will also be fear and resistance from some team members, and some who may need more handholding. Make yourself available for questions and open to feedback.