Our Community Health Clinic Steps Up
by Amelia
July 28, 2020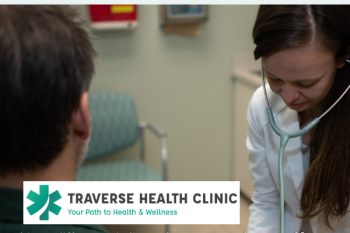 "Where Are They Now" is a series of stories written by our summer intern, Amelia Burke of Traverse City. She details the stories of grantee partners and where their work has taken them. Amelia is currently studying International Relations and Spanish at James Madison College within Michigan State University. She has taken the internship role to promote the marvelous organizations Rotary Charities supports, especially in this difficult time during COVID-19. Amelia hopes to use her experience with Rotary Youth Exchange and Rotary Charities to support stronger communities and intercultural conversation both here and abroad.
"Our community is only as healthy as the least healthy people living here." - Arlene Brennan, CEO of Traverse Health Clinic
Traverse Health Clinic was founded over 40 years ago by a group of volunteers who believed everyone deserves access to high quality healthcare, no matter their income. In a country where health and wellness is so closely linked to social class, Traverse Health is a haven for dignified care for all.
"Half [of our patients] are at the poverty level, most don't have insurance, and some are unemployed," says Mi Stanley. Their model of bringing all essential services under one roof is especially important because of the underlying issues some patients have from experiencing years without comprehensive health services: some patients discover cancer or diabetes after coming in for a simple check-up. It is crucial to address current health issues in order to maintain long, consistent health, and Traverse Health makes that easier by offering a full suite of affordable care options to patients when they walk in the door.
Rotary Charities joined many other donors in a 2016 campaign to support Traverse Health's expansion to a new location on a major thoroughfare and the accompanying growth of their organization. In addition to increasing their exam and counseling rooms, Traverse Health was able to expand their mental health services and provide more accommodations, such as adding a Bay Area Transportation Authority bus stop outside their clinic to increase accessibility. They also began offering addiction treatment through the state-funded Opioid Health Home Program.
It was a miraculous difference in space, benefit, and care. Returning patients immediately noticed the impact the new location had on many aspects of the health clinic's operations, from expanded services right down to the nuts and bolts. "We no longer have a duct-taped exam table or hand-me-down medical devices, and we now have enough chairs for our entire staff to sit down," says Arlene Brennan. Those little things go a long way toward making patients feel welcome and respected.
Two short years later, in 2018, Traverse Health received Health Center Quality Leader certification. This was a profound honor as only 12 clinics in the state of Michigan were selected. With this honor and the accompanying grant money, the clinic was able to continue making improvements.Their growth in recent years has put them in a better position to serve during the COVID-19 pandemic.
Traverse Health is stepping up to provide the best possible care to the Grand Traverse area during this crisis, including secure testing and safely-distanced patient visits. Their services are even more needed in this time when patients are not leaving their houses as much or coming to regular appointments and mental health check-ups. They are still able to visit with care providers over Televisit technology and continue feeling supported as they navigate chronic health challenges that are complicated by the pandemic and its ripple effects.
The Traverse Health Clinic has transformed the way that many people in the Grand Traverse area receive health care, and the community has benefited greatly from their attentive services. Because of the generosity shared with Traverse Health, more and more vulnerable patients can take steps to achieve their best selves, starting with their overall health.
Thanks to Arlene Brennan, Chief Executive Officer of the Traverse Health Clinic, and Mi Stanley, the Communications and Marketing Manager, who shared the journey they have been on since the Traverse Health Clinic's move to their new, spacious location on Garfield Avenue in Traverse City in 2016.