Sharing Live Dance with Northern Michigan Communities
by Miriam
July 13, 2021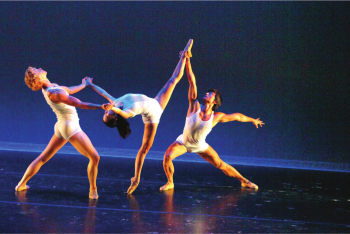 By Miriam Owsley, Strategic Communications Manager
This summer's artistic and theatrical performances will look and feel very different than they did pre-pandemic. For the Traverse City Dance Project (TCDP) organizers, that's precisely what they've been working towards. This spring, TCDP was awarded a $30,000 Assets for Thriving Communities grant supporting their Moving Theater project, which equips the group with the technical equipment they need to bring live dance performances to communities across Northern Michigan.
Traverse City Dance Project was founded in 2012 by Brent Whitney, Executive & Artistic Director, and Jennifer McQuiston Lott, Artistic Director. The two met in New York City, each having just relocated to the Big Apple to pursue their careers in choreography and dance. For Whitney, who grew up in Northern Michigan and was one of few boys who danced in Traverse City, the question of "how do I get back to Traverse City in the summertime?" was top of mind. In his experience, many of his family and friends didn't understand what it meant to be a professional dancer. He says he and McQuiston Lott knew Traverse City was the perfect place to bring dance to and create a new experience for communities in Northern Michigan.
During those first few seasons, "we were asking a lot of favors," says Whitney, referring to the dancers who came to perform in Traverse City for little pay. "Now, we've grown into something that allows us to pay dancers a decent wage, and they all want to come to Traverse City." The non-profit dance company attracts dancers from all over the country to dance in its works and offers a cultural experience outside of the norm to audience members. The company frequently collaborates with other performing arts organizations, such as the Traverse Symphony Orchestra, which performs live music to accompany the dancers. "Performing to live music is so much more dynamic than recorded music. The connection between the audience, the orchestra, and the dancers creates this energy exchange that adds so much excitement to the performance," says Whitney.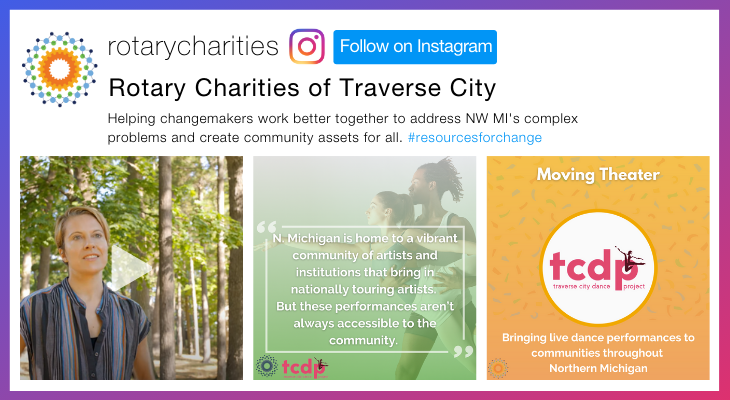 Northern Michigan is home to a vibrant community of artists and institutions that bring in nationally touring artists. "But these performances aren't always accessible to the community," says Whitney, who recounts his own childhood experiences of his parents taking only one or the other of their children to special events and performances due to the cost of attending.
Part of the mission of TCDP is to grow an audience of live-dance enthusiasts in Northern Michigan and make programs that are accessible to everyone. In hopes of increasing the affordability and approachability of live dance performances, TCDP has created the Moving Theater, a trailer outfitted with the staging, flooring, and equipment needed to transform any space into a safe platform for dancers to perform. The Moving Theater allows the group to turn nearly any space, indoors or outside, into a professional performance venue. This will also give the group the financial capacity to put on more performances throughout the season without requiring them to rent out expensive performance venues. Plans are in development to create a "community share program," which TCDP hopes will allow other performing arts organizations to rent the equipment, thereby expanding the reach of live arts performances into other underserved communities.
The group already has plans to visit several Northern Michigan communities that may be underserved when it comes to being exposed to the arts. TCDP is collaborating with fellow Rotary Charities grantees The Rock of Kingsley, Crosshatch for Arts & Ecology, and Glen Arbor Arts Association to bring performances to Kingsley, Bellaire, and Glen Arbor this summer. Events and dates can be found on TCDP's website.
Rotary Charities is proud to support Traverse City Dance Project and their Moving Theater with a $30,000 Assets for Thriving Communities grant. Learn more about TCDP and their upcoming performances on their website.