Introducing Kristin Hettich
by admin
October 26, 2021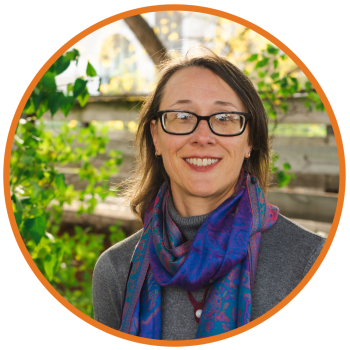 Kristin Hettich joins Rotary Charities as Director of Community Development
Kristin joins our team during a pivotal moment - over the last year, Rotary Charities has experienced healthy transitions in staffing, inviting opportunities for reflection and intentional growth, resulting in the creation of two new positions within our team. We hope you take this opportunity to reach out to Kristin to welcome her to Rotary Charities!
Kristin has relocated to Traverse City from Chicago, where she grew up and returned to after years of travel and study. She brings broad experience having worked for environmental and educational nonprofits and approaches her work with a focus on building authentic relationships. Kristin will lead our Assets for Thriving Communities grant category as well as our capacity building program.
Reach out to Kristin say hello and recommend your favorite fall hike!
What experiences have helped you define your career path?
I've taken a very unconventional path to get to where I am today. I grew up outside of Chicago and have spent time living all over the county (and world!).
I lived in DC while attending American University studying Peace and Conflict Resolution and studied abroad in Budapest. After undergrad I moved back to Chicago to work for an education nonprofit, finding myself doing a little bit of everything in various roles from program manager to fundraising.
I moved to Houghton, MI to attend grad school at Michigan Tech, where I majored in Forest Ecology, and later moved to Leadville, CO to work for an organization doing mine remediation and water quality work.
I found adventure when I moved to Honduras as a Peace Corps volunteer.
One of my first experiences with Rotary was in Highschool, when I studied abroad as a Rotary Exchange Student in Finland.
Though I am not technically "using my degrees", I find that my studies and work experience give me a broad perspective and influence my approach to social issues and working for and with organizations. I use an ecosystems lens to address problems, acknowledging that there are many components to complex issues and that challenges cannot be solved with singular action. I find that very exciting.

Which of Rotary Charities Core Values do you most gravitate towards?
As I reviewed Charities' five core values — Respect, Stewardship, Learning, Relationships, and Impact— I find myself most compelled by Relationships. I approach my work with grantees, partners, other funders with a focus on authenticity. I am conscious of breaking down the power dynamics between the funder and grantee. Every foundation is different, but so often, philanthropic relationships can be transactional, and organizations may feel they need to "sell" the funder on an initiative, or worse, create programming just to achieve funding. I try to pull back the curtain, get to know the organization, and build a genuine relationship.
The pandemic has created opportunities to refocus each of our own priorities and adapt to our changing world. How has your life changed in the last year?
I consider myself a social introvert, so initially, the move to work from home excited me. But as the pandemic droned on, my work-life balance became completely blurred and my routines were broken. This moment has been such a fascinating study of human behavior, and I've had the opportunity to reflect on what I need to thrive. I am filled up by connecting with people, with social spaces, and with nature. When the city began to open up again, I wasn't necessarily excited by going to the movies or returning to large venues, but rather wanted to reconnect with smaller venues and explore new natural areas outside of the city. It was important to me to get out of the city and be closer to nature.

What natural phenomenon would you use to describe the energy you're bringing to your new role?
Nature is so big and powerful! I don't feel like a lightning strike, and I'm definitely not a tornado. I tend to have very subtle energy, and as a kid I was labeled as shy and reserved. I think I could be compared to the tides, being consistent, predictable, and reliable. I love the aspect of the tides coming in to assist with raising the water, lifting all boats, and knowing when to pull back to let things happen. It's important to find the balance.