From Hopelessness to Homeownership
by Miriam
May 26, 2021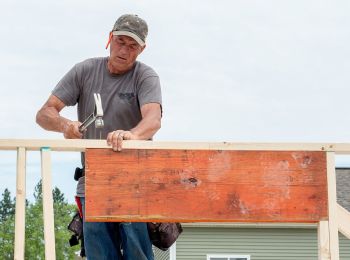 The topic of affordable housing is having its moment in the news, but assisting families and individuals to secure stable housing is nothing new for Habitat for Humanity Grand Traverse Region. Habitat has been awarded a $50,000 Assets for Thriving Communities grant in support of their Maple City Crossings Hope Builders Project. This development will bring six new energy-efficient homes to Maple City and will provide a place to call home for local families who live, work, and go to school in Leelanau County.
According to Wendy Irvin, executive director of Habitat for Humanity GTR, the organization received over 650 calls for assistance in 2019 - that's a 175% increase from year to year. And in 2020, the pandemic only magnified the need for safe housing, with 74 applications currently moving through different phases of the process. "We see families who are couch surfing or living in their cars, and they are desperately looking for housing. Many have looked for years, and the market isn't getting any better. They're managing the challenge from week to week, month to month, and they're often living in overcrowded, unsafe, or unaffordable housing. They come to us with their last shred of hope," says Irvin. "Every day that they are faced with this challenge, it becomes harder for them to survive."
Habitat seeks to provide strength, stability, and self-reliance through shelter. Without this most basic need covered, families and individuals facing housing insecurity often face other challenges, including a sense of hopelessness, lack of confidence, and a constant state of worry. Of particular concern is the safety and wellbeing of their children, whose education and self-confidence often suffer as a result of the instability. "I hear from families and children when their lives have finally turned around, and when they finally have hope," Irvin says of the families Habitat partners with to build homes. "The joy, the peace, the sense of relief...the opportunity for their children to be safe. This is what happens when you have a permanent place to call home,".
"Education is a key component of the work we do to set our clients up for success," says Irvin. One barrier to homeownership for lower-income families is their credit score, which can hinder their eligibility for traditional financing. Many of the people who call Habitat looking for assistance are aligned with a financial coach who will work with them to develop new skills and habits that will help them budget, save money, and get their credit score back on track. These financial literacy classes, as well as new homeowner courses, are required to become a Habitat homeowner. While they can't build a house for each caller, they do provide their clients with the knowledge and connections to put them in touch with the resources they need to succeed.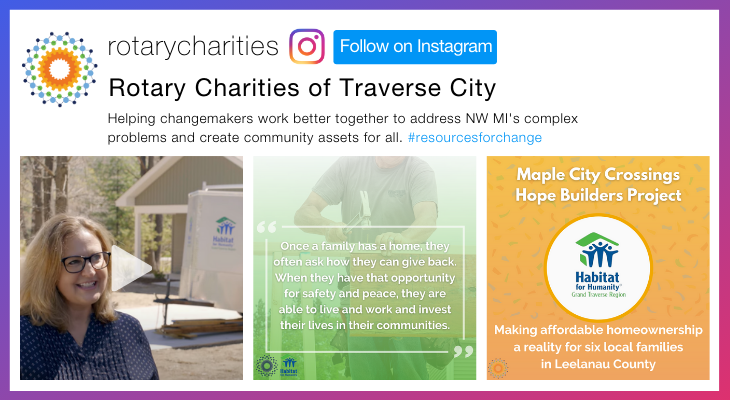 Affordable housing has been a challenging conversation for smaller communities to embrace, and education and outreach is often needed for communities to understand more about the families who will become their neighbors. These are most often families who are already living, working, and going to school in those communities but are living in unsustainable, unsafe, or unaffordable housing. "These families need a hand up, not a handout," says Irvin of the 38% of this region's residents who are ALICE (Asset Limited, Income Constrained, Employed). A common misconception of the model is that Habitat for Humanity homes are free to the families who need them. Rather, Habitat seeks to provide access to mortgages at 30% of the client's income level, which may range from $23,000/year for a single adult to $63,000/year for a family of 4. Once a family or individual partners with Habitat, each adult is required to put in 275 hours of sweat equity to build their home. This fosters a sense of ownership, provides an opportunity for the family to learn about their home from the inside out, and builds understanding of how the home works, and how to address issues as they arise.
Habitat for Humanity GTR recently broke ground on their newest development, the Maple City Crossings project, which will add six new homes, and inject vitality into Maple City and Leelanau County. The success of this project will result in part from a collaboration between Habitat, the Leelanau County Land Bank, and Kasson Township, and Maple City is an ideal location for these new homes. "We seek to build housing in close proximity to amenities, and these homes will be within walking distance from the gas station and convenience store, restaurants, and post office, and not far from the local public school and Traverse City is only a 15-minute drive," says Irvin, highlighting that the village is the right place for workforce housing.
The new development chips away at the increasing need for affordable housing in Leelanau County, where 700+ units will be needed in the coming years to meet demand. "The need for housing units is strong, with many people in 8 or 9-month rentals which are then turned into short-term rentals during the warmer months. Families are desperate for more reliable housing to meet their needs. These units will add more affordable options for those looking for a home," says Trudy Galla, Leelanau County Planning & Community Development Director, and member of the Housing Action Committee. "Every new housing unit adds members to the community who can serve on local boards and commissions, contribute to the local economy by visiting restaurants, stores, and gas stations, and adds additional residents who can work at these local businesses."
Having secure housing changes lives, and can have a generational impact. "One family matters," says Irvin, who wishes Habitat could provide housing for every family who has a need. "Once a family has a home, they often ask how they can give back. It touches them in a way that when they have that opportunity for safety and peace, they are able to live and work and invest their lives in their communities."
Rotary Charities is proud to support Habitat for Humanity Grand Traverse Region's Maple City Crossings Hope Builders Project with a $50,000 Assets for Thriving Communities grant. Applications for homeownership in Maple City are still open. Visit HabitatGTR.org for more information on homeownership and how to get involved and support their work.