Meet the Bright Minds of the New Leadership Learning Lab Class
by admin
September 26, 2023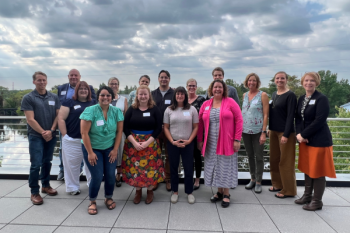 As summer transitions to fall and backpacks are full of new notebooks and sharpened pencils, local leaders find their seats and prepare for a year of learning, connection, and community.
The 2023-2024 Leadership Learning Lab (LLL) launched with a virtual kickoff earlier this month with 75 leaders from across northern lower Michigan, followed by in-person sessions at five sites where leaders connected with their smaller regional cohort. Leaders from each community have committed to a year of growth, including attending in-person and virtual learning sessions, working in small group learning pods, and completing individual practice, reflection, and homework. They'll explore adaptive leadership, time management, fund development, board development, storytelling, and more.
Site 5 is the Grand Traverse Regional cohort composed of participants from Antrim, Benzie, Grand Traverse, Kalkaska, and Leelanau Counties. While the LLL has been in operation since 2018, the first local cohort at Site 5 graduated in 2019. This year, this LLL site is pleased to welcome 17 participants from nonprofit organizations, for-profit businesses, government agencies and educational institutions.
Meet the Bright Minds of Site 5
Elizabeth Dunham, Fundraising Director at SEEDS Ecology & Education Centers
Jennifer Graham, Director of Engineering at Gourdie-Fraser, Inc.
Amy Hartzog, Trail Planner at TART Trails
Jame Hunter, Executive Director at Elk Rapids Chamber of Commerce and Chain of Lakes Regional Foundation
Tanya Laprade, Senior Associate at Rehmann
Juliana Lisuk, Associate Director at Inland Seas Education Association
Gavin MacDonald, Development and Communications Coordinator at Conservation Resource Alliance
Jodi Magee, Director at Kalkaska Commission on Aging
Val McCarthy, Executive Director at Arts for All of Northern Michigan
Sarah Payette, Program Director at Generations Ahead
Stephanie Rustem, Program and Fundraising Coordinator at Discovery Center and PIer
Nancy Schmidt, Business Development Specialist at First Children's Finance
Anne Schneider, Executive Director at Grand Traverse Foodshed Alliance
Emma Smith, Donor Relations and Volunteer Management at Child and Family Services of NW Michigan
Sarah Sullivan, Executive Director at Benzie Area Christian Neighbors (BACN)
Steve Wade, Vice President of Community Impact at Grand Traverse Regional Community Foundation
Andrew Waite, Operations Manager Integrated Health Clinic and BHH, Northern Lakes Community Mental Health Authority

There are four other sites, spread out over Northern Michigan, each with an equally impressive roster of new "students" for their cohorts this year.
Site 1 | Region: Mason, Manistee and Oceana County
Carly Bailey, Director of Youth Services at 19th Circuit Court - Family Division
Rubi Berumen, Departmental Supervisor at Michigan Department of Labor and Economic Opportunity (LEO)
Aubrey Boerema, Executive Director at Stony Lake Therapeutic Riding Center
Curtis Burdette, Executive Director at Oceana County Economic Alliance
Lauren Carlson, Poet, Arts Educator
Megan Chaffee, Development Director at West Michigan Community Mental Health
O'Nealya Gronstal, Executive Director at Lakeshore Food Club
Alison Helminski, Founder at Shoreline FORCE (youth chapter of Shoreline Cycling Club)
Jody Maloney, Director at Mason County Promise
Mark Olmstead, Superintendent at Shelby Public Schools
Raelyn Pitera, Operations Manager at Sable Points Lighthouse Keepers Association
Ron Stoneman, Superintendent at Manistee Area Public Schools
Eric Thuemmel, Executive Director at Manistee Recreation Association
Griffin Vogler, Director of Miniwanca at American Youth Foundation
Site 2 | Region: Charlevoix and Emmet County
Karin Beyer, Director of Community Philanthropy at Otsego Community Foundation
Emily Boehm, Program Services Manager at Northwest Michigan Habitat for Humanity
Carol Burton, Executive Director / Festival Coordinator at (PARC) Patrons of the Arts in Rural Communities
Ashley Cousens, Grants & Communications at Charlevoix County Community Foundation
Kanyn Doan, Community Outreach Educator + Youth Education Specialist at Planned Parenthood of Michigan
Kate Essenberg, CLEO (Central Lake Early Opportunities) Coordinator at Communities in Schools of Northwest Michigan
Jean Faivor, Family Liaison at Great Start Collaborative and Family Coalition at Charlevoix, Emmet and Northern Antrim Counties
Jen Knapp, Executive Director at Harbor
Emma McGuire, Executive Director at Training Wheels Childcare Center
Kim Miller-Smith, Director of Social Services at The Salvation Army
Matt Thomas, Executive Director at Beaver Island Performing Arts Alliance
Caitlin Williams, Annual Giving and Alumni Coordinator at North Central Michigan College Foundation
Site 3 | Region: Alcona, Alpena, Crawford, Montmorency, Otsego, Oscoda, Ogemaw, Presque Isle, and Roscommon County
Heather Appold, Director, Kirtland Foundation at Kirtland Community College Foundation
Kim Awrey, City Manager at City of Gaylord
Lisa Blumenthal, Assistant to the Dean of Workforce Development at Alpena Community College
Jenn Brown, Executive Director at Tawas Wellness Warriors Inc
Kasey Cordes, Food Director/Facility Caretaker Supervisor at Alcona Community Schools
Alex Czarnecki, Executive Director/Curator at Presque Isle County Historical Museum
Cassandra Freeman, Business Manager at Roscommon County Community Foundation
Theresa Gibson, President at Rogers City Community Theatre
Kathy Himes, Human Resources Director at City of Alpena
Paige Lackey, Communications Manager at Huron Pines
Madeleine McConnell, Executive Director at Sunrise Centre
Tammie Nemeth, Executive Director at New Life Pregnancy Resource Center
Abbey Podbielski, Program Director at Touchstone Services-Light of Hope Clubhouse
Pamm Quinn, Operations Manager at Otsego County United Way
Meag Schwartz, Network Coordinator at Northeast Michigan Great Lakes Stewardship Initiative
Site 4 | Region: Isabella and Wexford County
Maisha Andrychowski, Financial Director at Mid Michigan Community Action Agency
Mary Campbell, Interim Executive Director at Healing Private Wounds
Alexa Carey, Interim Executive Director at Mid Michigan College Foundation
Emily DeJong, Executive Director at Christian Counseling of Mid Michigan
Lizzie Dilg, Executive Director at Mt. Pleasant Discovery Museum
Julia Eigenbrood, Executive Director at The Care Store
Bethany Ervin, Realtor/Real Estate Agent at Weichert Realtors, Broadway Realty
Flora Grundy, Fund Development/Grant Writer at Wexford-Osceola Habitat for Humanity
Amy Helsel, Administrative Assistant at Healing Private Wounds
Quana Hoffman, Member Experience Manager at Isabella Community Credit Union
Amy Kotulski, Director at Club Cadillac
Hannah Martin, Communication & Events Coordinator at Mt. Pleasant Area Chamber of Commerce
Rachel Reinink, Executive Director at Love, INC of Wexford and Osceola Counties
Sara Shields, Executive Director at Oasis Family Resource Center
Hali Williams, Trust Operations Supervisor at Isabella Bank
While the new cohort students start the learning journey, alums from all five sites have also registered to keep their learning going with various virtual and in-person options. The LLL team looks forward to sharing more updates throughout the academic year.
About Leadership Learning Lab
The LLL was established in 2018 by a funder collaborative including the Frey Foundation, ten Northern Michigan Community Foundations, and Rotary Charities of Traverse City. The program combines adaptive leadership, time management, and nonprofit and cross-sector capacity-building skills. It also aims to create a network of support for changemakers. It invests directly in cross-sector leaders to strengthen their organizations and the communities they serve. Generous thanks to this year's funding partners: the Frey Foundation, Manistee County Community Foundation, Community Foundation for Oceana County, Community Foundation for Mason County, Charlevoix County Community Foundation, Petoskey-Harbor Springs Area Community Foundation, Otsego County Community Foundation, Community Foundation for Northeast Michigan, Roscommon County Community Foundation, Mt. Pleasant Area Community Foundation, Cadillac Area Community Foundation, Grand Traverse Regional Community Foundation, and Rotary Charities of Traverse City.