Transforming Disruption into Resilience
by Miriam
March 23, 2021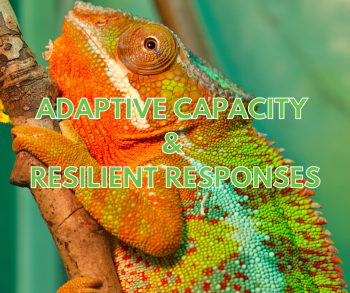 In many ways, our lives will never be the same as they were before the COVID-19 pandemic. Many individuals, businesses, and organizations have demonstrated remarkable resiliency in their ability to adapt to the challenges posed by COVID-19. Their resilient responses have revealed tremendous strength within our communities that can help us create a more equitable future.
As part of Rotary Charities' grantmaking model, we facilitate a Systems Change Community of Practice to connect and learn with local leaders working upstream on our region's most complex problems. The Systems Change Community of Practice is open to grantees and their team members and is co-designed by the members of the group. This focus reflects nearly every one of our Guiding Principles. We've learned from our grantees that the key to finding solutions to some of our most challenging issues is the ability to remain flexible to adapt to changing circumstances.
In our most recent gathering, the Community of Practice welcomed Dr. Pennie Foster-Fishman to share her insights and observations of our communities' adaptive capacity in light of the COVID-19 pandemic. Pennie led changemakers through an exercise that helped them identify their resilient responses to the crises faced by their organizations and peel back the layers to uncover three key insights:
What are some of the impacts these adaptive responses have had on your system/organization?
What hidden capacities were revealed through these responses?
How did these resilient responses affect local inequities?
Dozens of resilient responses and insights were shared, including some powerful themes:
Taking time to build relationships and networks pre-COVID helped many to move quickly and work together across organizational boundaries when the crises hit.

Less centralized leadership allowed for more quick and nimble responses to emerge from across organizations and systems.

Powerful responses accomplished more than one goal at the same time; e.g. supporting struggling local farms by buying produce that better meets the nutritional needs of food pantry clients.

Virtual work options and flexible hours allowed working parents to balance the demands of work and family life.

Compensating frontline workers with hazard pay created a mindset shift and sent a message that their work is valuable.

Temporarily repurposing assets that are underutilized in a system can create new efficiencies, improve access, and address inequities.
Why spend time reflecting on resilient responses? When trying to shift complex systems, we know that taking time to reflect on and learn does not take time away from work; it is the work! As Pennie describes, healthy systems and organizations can leverage disruptive events and resilient responses as opportunities to create more durable long-term change. Our responses can be a window into a different future. But, without intention, she warns, systems will often revert back to the status quo, further embedding any inequities that may have existed before a disruption.
In preparation for the Community of Practice, Pennie created this short video to help changemakers prepare for the exercise. She has graciously given her permission to share this and her tool, Leveraging Learning from Our Resilient Responses. This exercise will help you identify resilient responses, capture insights, and maximize the possibilities to apply them to your organization, your collaborative network, a change initiative, or your broader community.
The COVID-19 pandemic may be the most disruptive event that we have faced in our lifetime. We know that this type of severe disruption of our societies' systems can become an opportunity to reimagine what is possible. What are some resilient responses and adaptations that your business, organization, or collaborative partnership have adopted? What will you keep, change, create, or chuck? Let us know!