Meet Sakura Takano, Rotary Charities' new CEO
by Miriam
May 4, 2021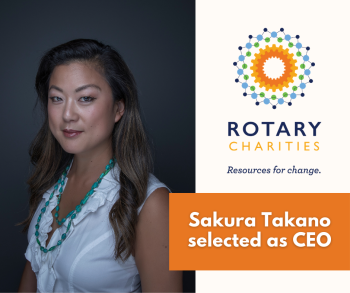 We are absolutely thrilled to announce that Sakura Takano has been selected as the new CEO of Rotary Charities of Traverse City.
After a national search that produced nearly 50 applicants, it was Sakura's broad experience, community leadership, and vision for the future of the organization that solidified her selection, with a unanimous vote of support by the board.
You may already know Sakura as a trusted partner, community leader, and Rotarian. As Rotary Charities' Director of Community Assets and Impact Investing, she brings a deep understanding of systems change and commitment to our trust-based philanthropic model to her new role as CEO. In the midst of a global pandemic and political, social, and racial unrest, she's led internal organizational work with a steady, open-minded, and action-oriented leadership style to better help and adapt to changemakers' and nonprofits' needs.
You can find the press release here, or read on for a more personal interview with Sakura.
What experience has inspired you to pursue a career in philanthropy?
When I left the private sector in 2007, I discovered that I wanted to spend my time making our world a better place to live for those who didn't have the power or voice to do so for themselves. It seems lofty, but I know only a handful of people who would go to business school to study Social Enterprise. As I began to research how this happens, I was immediately inspired by reading about groups of women who'd started lending funds to people in remote villages to start their own businesses and support their communities' families. I was struck by the action of mutual aid that resulted in bolstering an entire community. Because I had experience in finance, it led me to explore impact investing just when it was a burgeoning specialty interest area for foundations. I happened to be in the right place at the right time and worked for the Rockefeller Foundation in New York City in their new Impact Investing practice. The concept of using endowment funds to leverage impact and new sources of capital was my initial inspiration — it seems rather technical but it can be a powerful tool to make a lasting impact.
It took me another ten years to accumulate invaluable experiences overseeing direct services to people in need to understand the power of philanthropic partners and how they can help move great community work forward.

You're active in the Traverse City Noon Rotary Club — why is community service important to you?
Growing up, my dad was a Rotarian in Honolulu, Hawaii. I didn't really know what that meant at the time, except that the Rotary wheel is a pretty cool logo. It was years later when my understanding of how important it is to feel welcome in a new community came to light. Traverse City became my home in 2012 and I met so many wonderful people through volunteering, attending free community events, and getting to know fellow Rotarians every week. The feeling of being welcomed somewhere makes me want to keep passing that feeling along to new people along the way.

Which of Rotary Charities Guiding Principles do you most gravitate towards?
Given the last year and all the changes big and small that we have made as nations, communities, and families, the "Adaptive" principle resonates so clearly with me. Hearing how nonprofits have pivoted (can we ban this word after 2021?) to keep meeting the needs of their constituents and creating agile and relevant programs and services has been incredibly humbling. As we all start to catch our breath, I'd love to highlight many of these adaptations we have heard of in the last year. As my colleague, Freya Bradford, says, "We can do hard things!" and Rotary Charities is here to support changemakers along the way.
Your final interview involved a presentation to the Rotary Charities board, set in the year 2026 looking back at the last five years of the organization's accomplishments. Tell us about your vision for the future and the role that Rotary Charities will play in our community and in the world of philanthropy.
I commend the Board of Trustees and Search Committee for a thorough interview process, especially adapting to making the process Covid-19 safety friendly. Getting an opportunity to envision the possibilities for our organization was very fun! I see a future where systems change outcomes are tangible and our organization and community celebrates the set of intangible actions that help us get there. Together, we will learn that through trust, open communication, and accountability, shared visions can be created. Changemakers and community organizations feel accountable to each other and to the communities they serve. We are less afraid to take risks needed for transformative change because we are taking risks together. Leaders are giving up their hold on power and people are seeing they have the agency to make change where they are, with what they have. Most importantly, there is a growing sense of joy in working together toward the common good, and the ecosystem of diverse changemakers working on complex problems, shifting old outcomes for everyone, is thriving.
In 5 years, I want to know that Rotarians continue to bring people together to cultivate visionary thinking and turn those ideas into action, especially to help rural communities see themselves as asset-rich and welcoming to all.

The pandemic has created opportunities to refocus each of our own priorities and adapt to our changing world. How has your life changed in the last year?
That's a good one. Having come from an immigrant background, my mother unknowingly passed on the "survival gene" to me. I evaluated quickly the possible worst-case scenarios and simplified everything I could control to taking care of the bare necessities--health, family, food, love. I learned that all those things are synonymous for me. In doing so, it opened so much space in my heart and mind to express my compassion and care for those struggling in their own ways with our new realities. That concept has come to full light as well. I think we learned so much about human nature, and how we need each other not only to survive but thrive.
A word from Becky

"I have loved my time at Rotary Charities and couldn't have asked for a better capstone to my career. It is a beautiful organization, with a strong staff and engaged board that believe in the collective power of our region to make positive change for everyone. We've learned a great deal about how a group of committed folks can begin to shift outcomes in complex problems; change is hard, but we can do hard things. Sakura is going to take the organization to the next level and I am excited to see what she will make possible."