Community of Practice tries new things
by freya
September 9, 2020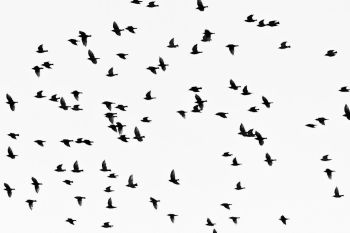 There are certain problems that persist unabated decade after decade in most communities around the world. They resist huge philanthropic investments, scaled "best practices," heroic leadership, and the most savvy social entrepreneurship. They are our most complex, wicked problems like health disparities, homelessness, racism, addiction, climate change, poverty and food insecurity. No single organization, policy or personal failure creates these problems, and no singular solutions exist.
Nevertheless, a growing number of changemakers in our region are aiming squarely at eliminating these types of seemingly intractable issues. We asked hundreds of changemakers in our region and others around the world:
What would it take for us to make progress on our most complex community problems together?
What we heard was diverse, but can be distilled to two things: If we are to make progress on complex problems we need to work together across sectors, and differently than we have in the past, to address these problems at their roots.
In 2018, we created the Systems Change Accelerator to support changemakers doing just that. Since then, we have invested over $800,000 in six transformative initiatives. These initiatives are working with diverse teams to target the systemic roots of problems: the policies, practices, resource flows, relationships and connections, power dynamics and mindsets that keep our greatest challenges in place (FSG, The Water of Systems Change).

Because the aim of systems change is to disrupt the status quo, we cannot approach this work like business as usual. We gathered our grantee partners to try on new ways of working together as members of our Systems Change Community of Practice. We connect quarterly to challenge ourselves and learn from each other about what systems change looks like on the ground. Through participant-designed meetings, and occasional expert guests, the CoP has explored:
Creating a common language around the work of systems change

Telling stories that help us see the systems around us

Uncovering mindsets that enable systems change

Evaluating systems change to find immediate and long-term shifts

Noticing how systems are responding to COVID-19

Weaving equity into systems practice for truly transformational change for all
While systems change is a long-term endeavor, the Community of Practice looks out for the early signs that systems are beginning to change in favor of more thriving and equitable communities. Using the FSG framework, we look out for changes like:
Relationships & Power Dynamics: Systems changemakers are inviting new people into the work, including both those with institutional power and those with the power that comes from lived experience with the issue. These new connections are creating pathways for information and resources to flow in new directions. Long-standing relationships are also being re-examined and re-negotiated through a lens of what kind of partnership might be best for the system, including those with institutional power stepping back and channeling resources so those most impacted by the issue can lead.
Information & Resource Flows: New avenues and platforms are being created to share information quickly across systems. Questions and answers are crowdsourced, saving time and sparking innovation. Data, protocols and templates are being shared across organizations, creating more system-informed actions and streamlining common processes.
Practice: New information is processed to re-design common system practices.
Mindsets: Leaders, frontline and community members are beginning to see themselves in the problems and the solutions and believe we can make a meaningful difference in these complex issues. Long-held beliefs that have shaped historic approaches to the issue are questioned as new ideas spread. Changemakers are reporting more patience with the pace of change – able to keep their eye on the long-view and not be seduced by short-term "gains" that might undermine longer-term solutions.